مستشفى إعادة التأهيل ميديان برلين كلادو
قسم جراحة العظام (

25847

)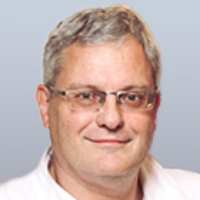 Dr. med.
Michael Quasbarth
Specialized in: orthopedics, orthopedic rehabilitation
عن القسم
The Department of Orthopedic Rehabilitation at the MEDIAN Rehabilitation Clinic Berlin Kladow offers rehabilitation for patients with diseases and injuries of the entire musculoskeletal system. The department applies advanced achievements in the field of medicine and many methods tested by experience and time, which helps achieve optimal results of rehabilitation, best possible mobility, ensure independence and return a person to their former professional and social life. The department is headed by Dr. Michael Quasbarth.
All rehabilitation goals are determined individually together with the patient. For example, it can be pain relief, improvement of joint mobility by strengthening muscles and coordination of movements, as well as restoration of activity, mobility and quality of life with the development of independence in everyday life, achieving adequate psychosocial competence, etc. Reintegration into working and professional life is especially important for patients of working age.
If necessary, patients are also provided with support for coping with psychological stress and social problems. In addition to inpatient rehabilitation, the department also offers the possibility of outpatient rehabilitation during the day.
The rehabilitation quality management program of the German Pension Insurance (DRV-Bund) ensures a constant service maintenance and improvement. In addition, the department was certified in accordance with IQMP Reha standards.
The department specializes in the rehabilitation of patients with the following diseases and surgical interventions:
Spine surgery (intervertebral disc surgery, incl. chemonucleolysis and condition after microsurgical procedures, spinal decompression, Delbet's osteosynthesis in traumatic, degenerative and postinfectious spinal instability)
Operations on bones, tendons, ligaments and joints, including joint replacement surgery
Amputations
Polytrauma
Conditions after surgical and conservative treatment of fractures of the musculoskeletal system (incl. the spine)
Corset removal after extensive spine surgery
Operations for rheumatic diseases
Consequences of diseases for the musculoskeletal system (e.g., after poliomyelitis)
Congenital and acquired deformities of the musculoskeletal system
Conditions after conservative treatment of herniated intervertebral disc
Functional disorders of the musculoskeletal system
Degenerative diseases of the spine and joints
Osteoporosis
Psoriasis that affects joints
Inflammatory diseases of the spine and joints (e.g., Bekhterev's disease)
Malignant tumors of the musculoskeletal system after radiation therapy and / or chemotherapy
The department offers a wide range of diagnostic services:
X-ray, incl. functional radiography of the whole skeleton
Electrophysiological diagnosis with EEG, EMG, ENG, EP
Ergometry unit, psychometric diagnostics
Manual functional muscular diagnostics
Muscle and joint isokinetic diagnosis
Ergotherapeutic functional diagnostics
Computer-assisted diagnostics for the analysis of movements, posture and gait
Ultrasound diagnostics of the musculoskeletal system
Clinical Chemistry Laboratory with serological diagnosis for rheumatism, (external) liquor diagnostics
ECG, ultrasound of the upper abdominal cavity
CT, MRI, (external) Doppler sonography of the peripheral vessels
The department offers patients the following therapeutic possibilities:
Physiotherapy
Bobath therapy, Klein-Vogelbach therapy
Manual therapy
Medical training therapy, including the device for isokinetic testing (Cybex)
Motor therapy
Spinal extension table
Feldenkrais method (motor practice)
Manual therapy by Cyriax
Kinesio-Tape
Proprioceptive neuromuscular facilitation
Brunckow's therapy
Craniosacral therapy
Neuromuscular therapy
Elimination of contractures
Functional osteopathy
Electrical muscle stimulation
Medical pool
Bicycle ergometer
Nordic Walking
Cryotherapy
Respiratory therapy, relaxation
Wheelchair training
Electromechanical walker (walking training): Terraintraining, treadmill
Sports therapy
Ergotherapy
Training for self-care, housekeeping and behavior at home and outside
Wheelchair training
Remedial gymnastics for spine
Training on the use of prostheses
Consultations on the performance of work directly at the workplace (workplace model: office work)
Help, adaptation, advice
Bobbat, Brügger, Klein-Vogelbach therapies
Performance evaluation (Canadian Occupational Performance Measure)
Therapy after amputation of the lower limb
Functional training for the upper limb
Treatment of fibromyalgia
Manual therapy, trigger point treatment
PNF (proprioceptive neuromuscular facilitation)
Sensorymotor training
Workplace therapy
Balneological treatment
Electrotherapy
Healing baths, hydrogalvanic baths
Thermal procedures
Classic massage and other massage types
Manual and instrumental lymphatic drainage
Ultrasound, including sonophoresis in combination with electrotherapy
Marnitz massage
Applied kinesiology
Magnetic field
السيرة الذاتية
1980 - 1982 Ausbildung zum med.-tech. Assistenten (Fachrichtung Labor) beim Lette-Verein in Berlin, Staatsexamen (02/1982)
1982 Berufstätigkeit als MTLA im Zentrallabor des St. Gertrauden Krankenhauses in Berlin
1985 - 1989 Berufstätigkeit als MTLA im Nachtdienst des St. Gertrauden Krankenhauses in Berlin (Notfallabor)
1982 - 1984 Studium der Humanmedizin an der Rijksuniversiteit Groningen (Niederlande)
1984 - 1989 Studium der Humanmedizin an der FU Berlin, Staatsexamen (04/1989)
1989 - 1991 Arzt im Praktikum
1991 - 1998 Assistenzarzt in der MEDIAN Klinik Berlin, ab August 1995 zusätzlich mit Funktionsoberarzttätigkeit - Bereich Orthopädie –
05/1993 Erlangung der Zusatzbezeichnung Physikalische Therapie
01/1995 Erlangung der Zusatzbezeichnung Chirotherapie
1998 Assistenzarzt im Krankenhaus Rheiderland, Innere Abteilung
06/1998 Anerkennung als Facharzt für Physikalische und Rehabilitative Medizin
1998 - 2000 Assistenzarzt in der MEDIAN Klinik Berlin, Orthopädische Abteilung
2000 - 2005 Assistenzarzt im Immanuel Krankenhaus - Orthopädische Abteilung -
01/2008 Erlangung der Zusatzbezeichnung Physikalische Therapie und Balneologie
09/2003 Anerkennung als Facharzt für Orthopädie
12/2004 Erlangung der Zusatzbezeichnung Sozialmedizin
seit 2005 zunächst Oberarzt, dann Chefarzt der MEDIAN Klinik Berlin-Kladow
قسم جراحة العظام.
مستشفى إعادة التأهيل ميديان برلين كلادو:
اطلب المزيد من المعلومات الآن. سنكون سعداء بالإجابة على جميع أسئلتك
---
---
شهادة